Welcome to A Little Strength! I'm happy you found my humble website, and I hope you enjoy it and are blessed and encouraged by it in some small way.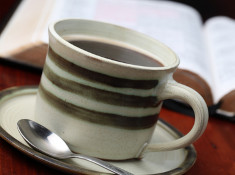 So grab a cup o' joe and stick around.
Why?
Because if you are a Christian, you need to be aware of how the prophetic scenario is coming together in order to maintain a proper perspective of where we are on God's prophetic clock. You also need to have your head screwed on straight about certain biblical teachings so you won't be deceived by those who seek to douse your faith in God's promises with a few bucketfuls of false doctrine.
Don't look now, but a few such people may be attending your church.
Or preaching from its pulpit.
If you are not a Christian, you still need to be aware of that prophetic scenario thing, because whether you like it or not—whether you believe it or not—it absolutely affects you as well. More than you realize. And with that sobering thought in mind, there are a few important things I would love to have the chance to explain to you.
That is, if you're willing to grab a cup o' joe and stick around.
It's like this: I am a Bible-believing, born-again Christian, I am convinced beyond any doubt that we are rapidly approaching the biblically prophesied period of time that will precede the return of Christ, and writing figures prominently in my concept of heaven.
Put those three things together, and you have this website.
Once a week, I post some brief comments on something that has been in the news recently, generally something of prophetic significance or interest. The most recent entry is shown below, and all previous entries can be found in Commentary.
I post a full-length article each month, and the current feature article is below. The entire archive can be found in Articles.
 Weekly Commentary: 
6/26/2017 — From the "Wait Till Next Year" Department...
I was born and raised in Central Illinois, and have been a die-hard Chicago Cub fan since I graced (disgraced?) the field as a starry-eyed Little Leaguer. Yes, the Lovable Losers. Of course, if you are even marginally aware of things baseball, you know the Lovable Losers of Chicago's North Side are losers no more, and I am still giddy from their 2016 World Series victory—their first since 1908.
But every Cub fan knows all too well the old "Wait till next year!" refrain, since we've had to invoke it more often than any fans of any team in the history of the sport.
Oh wait, what's this..."Trump may drop Israeli-Palestinian peace talks"?!
Wh-a-a-t? Just when I was all hyped up over something that might lead to the treaty of Daniel 9:27 and all that?! Nooo! Say it ain't so!
Meanwhile, the Trump administration is vehemently denying the report, saying that plans to proceed with peace negotiations later this year will be largely based on the assessment of Trump's son-in-law Jared Kushner, who is busily putting together his report based on his meetings with both Israeli Prime Minister Benjamin Netanyahu and Palestinian Authority President Mahmoud Abbas.
Look, let's cut the chitchat. Here it is. If this deal really depended on each side making the requisite concessions, the deal would never get done. But God's Word says the deal will get done. That means it doesn't depend on that. It doesn't depend on Benjamin Netanyahu or Mahmoud Abbas. It doesn't depend on Donald Trump or Jared Kushner, and neither does it depend on anything anyone else says or does.
It only depends on the God of Abraham, Isaac, and Jacob.
If it's God's time, it'll happen. If it ain't, it won't.
And if 2017 isn't God's time, then we'll just chime in with the old refrain until it is God's time:
"Wait till next year."
But God is moving in so many ways that I am still of the opinion that this is the time.
As always, we shall see.
 Feature Article: 
The Exit Sign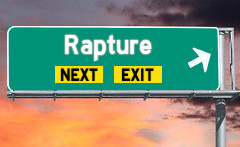 Unless you've been living on the planet Jupiter for the past couple of years, you've almost certainly heard the buzz about the Revelation 12 sign that the Bible prophecy community has been buzzing about since 2011 (if you're one of the few who hasn't, read this first). This isn't the first time I have written about it—and the way things are going, I suspect it won't be the last.
Although the Bible prophecy community may have been abuzz about it since 2011 (particularly in the last couple of years), the mainstream Church has been eerily quiet on the subject. It seems most established ministers (with reputations to protect) have been avoiding the topic the way you would avoid a worried-looking manager clutching a fistful of documents heading in your general direction 15 minutes before quitting time. Many simply don't want to address it—and when they do, they typically bungle it so badly it would have been better for all concerned if they had remained silent.
After some of the laughable remarks I've heard coming from the mouths of certain high-profile ministers concerning the REV12 sign, I am reminded of something I recall my mother saying when I was a child:
It is better to keep your mouth shut and be thought a fool than to open it and remove all doubt.
If you like this website, share it with someone!
If you'd like to receive an email letting you know
when a new article has been posted, subscribe!